Oprah Winfrey could be headed for the U.S. Senate, RadarOnline.com has learned. California Gov. Gavin Newsom is reportedly considering the beloved talk show host as a possible replacement for Dianne Feinstein in the case that the aging senator makes the decision to retire early from her seat.
The governor already said in early 2021 that if Feinstein chose to step down , he was planning to appoint a Black woman as her replacement, noting at the time that they had "multiple names in mind.Although Newsom has not publicly elaborated on all of his specific choices for the senate seat, it's been rumored Winfrey has been on his list. However, not everyone is on board with the controversial pick.
American Principle's Project president Terry Schilling spoke out against the rumors , claiming that "Democrats' identity politics is tearing this country apart," per Daily Mail .
"Whether or not Oprah is qualified to serve as a senator is up for debate. But what shouldn't be debatable is that the people of California, just like any other state, deserve the best person possible representing them," the outspoken conservative continued. "Not someone whose chief qualification is their sex and skin color."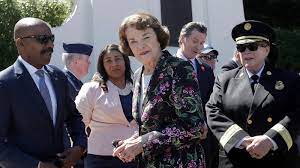 While Feinstein's reps have denied the 89-year-old politician has any plans to retire early, this comes as reports that the mother-of-one is facing severe health and memory-related issues continue to pour in.
Last April, the San Francisco Chronicle reported that sources close to Feinstein believed her memory was " rapidly deteriorating ," leaving her unable to "fulfill her job duties without her staff doing much of the work required to represent the nearly 40 million people of California."
Feinstein was also recently forced to take a nearly three months of leave from the job while recovering from shingles, but upon her return, she quickly sparked renewed concerns when she appeared confused by questions regarding her absence.
"I haven't been gone. I've been here, I've been voting," she reportedly told a reporter. "Please, either know or don't know."
As Radar previously reported, Nancy Pelosi 's daughter has been shadowing Feinstein since resuming her work at the Senate to support her throughout her recovery.