CHICAGO, Ill. – In the midst of a bitter feud between Disney and the state of Florida, the Illinois Department of Commerce and Economic Opportunity has left the door open for a potential Disney expansion in the Land of Lincoln.
While the idea may currently be in the realm of imagination, Illinois officials are keen to highlight the state's business-friendly environment and commitment to laws that benefit employees and their families.
The ongoing dispute between Disney and Florida Governor Ron DeSantis recently led to the cancellation of a $1 billion development project and the relocation of a division from California, which would have created over 2,000 jobs.
As tensions escalate, Illinois seems to be seizing the opportunity to attract the House of Mouse.
In a clever move to remind Disney of its roots, Illinois proudly highlighted itself as the birthplace of Walt Disney, who was born in 1901 on Chicago's Northwest Side. With a strong commitment to diversity and inclusion, Illinois is positioning itself as an attractive alternative for the entertainment giant.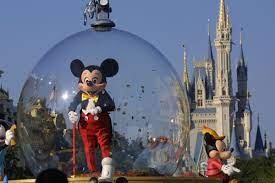 While the push to bring Disney to Illinois may not be as intense as efforts to attract electric vehicle manufacturers, state officials are eager to put forth the proposition. The Walt Disney World Resort, located in Florida, currently comprises four theme parks, two water parks, themed resort hotels, and various entertainment venues. However, the birthplace of Walt Disney could potentially offer a new and exciting chapter for the company.
The details of a potential Disney expansion in Illinois remain uncertain. Walt Disney Productions initially acquired a vast amount of land in Florida through dummy corporations, which now houses the iconic parks, attractions, and even residential properties. As speculation surrounding the company swirls, Disney would need to consider the potential benefits and opportunities within the state boundaries of Illinois.
Amidst the discussion, Nikki Haley, a prominent figure eyeing the 2024 presidential race, suggested that Disney should consider a move to her home state of South Carolina, taking a subtle dig at Governor DeSantis in the process.
While the future of Disney's potential expansion hangs in the balance, Illinois and other states are positioning themselves as attractive destinations for the entertainment giant. As the feud with Florida intensifies, the House of Mouse may soon find a new home where its magic can continue to thrive.