Texas is challenging federal control of policy on the US-Mexico border by exploiting what it sees as a constitutional loophole around the definition of an "invasion" but that migrants rights activists see as dangerously ramping up fears with racist language.
Immigration policy has long been under the purview of the US federal government – not individual states – since the US supreme court ruled so in a landmark United States v Arizona case in 2012.
But in November of 2022, rightwing Republican governor Greg Abbott invoked the "invasion" clauses found in the Texas and US constitutions, likening migrants at the border to a public foreign enemy that therefore gave him the power to enact his own border policies.
The Texas Civil Rights Project called the move a "political ploy".
"Calling immigrants an invasion is extremely dangerous," said Roberto Lopez, senior advocacy manager for the organization's "Beyond the Border" program.
Lopez added: "We have seen so many shootings and more rise in hate crimes [against migrants.] This is all connected to this rhetoric of associating people who are trying to seek safety with being like a literal attack on the United States. That is just giving a lot of fire and energy to militia groups and people who are filled with hate."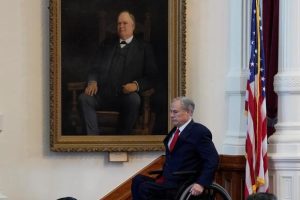 Abbott is already seeking to take Texas border control into his own hands, as evidenced by the state's recent announcement of a new " border force " that could allow its agents to "arrest, apprehend or detain persons crossing the Texas-Mexico border unlawfully", if it gets past the state legislature. And with a conservative-majority in both the Texas state house and senate, that likelihood is high.
Abbott has made his interpretation of the "invasion clauses" clear. At the time of announcing his border force, Abbott said: "I invoked the Invasion Clauses of the US and Texas Constitutions to fully authorize Texas to take unprecedented measures to defend our state against an invasion."
"I'm using that constitutional authority, and other authorization and Executive Orders to keep our state & country safe."
But the legal language Abbot is citing is not that simple, according to Barbara Hines, a law professor at the University of Texas and founder of its law school Immigration Clinic.
Hines called the state's justification for creating its own immigration laws "unprecedented and extreme".
"Federal immigration law is a federal issue. It's not based on the Texas constitution," Hines said.
Article four of the Texas constitution states: "[The governor] shall be Commander-in-Chief of the military forces of the State, except when they are called into actual service of the United States. He shall have power to call forth the militia to execute the laws of the State, to suppress insurrections, and to repel invasions."
Abbott argues the increase of migrants at the border merits drastic actions such as establishing a state police force specifically to rein in immigration.
Migrant rights groups say people crossing the border – many of whom are seeking to legally claim refugee status – does not constitute an invasion. Instead, they say such language is racist and inflammatory. In 2019 a white supremacist attacked a Walmart in El Paso, seeking to kill Latinos and fueled by anti-immigration rhetoric. The gunman killed 23 people.