Mayor Eric Adams on Wednesday night decried a CUNY law school graduate's "hate-filled" commencement speech and declared he'd have denounced those comments on stage if he heard them.
Adams delivered the criticism of newly minted law grad Fatima Mousa Mohammed while hosting a Jewish Heritage Month reception at Gracie Mansion.
The mayor was at the public college's commencement ceremony on May 12, but told the crowd Wednesday night that he left before Mohammed took the stage and called for a "revolution" to rid the legal system of "white supremacy" while ripping the NYPD and claiming Israel carries out "indiscriminate" murder.
"I will tell you, if I was on that stage, when those comments were made, I would have stood up and denounced them immediately!" Adams said in his Wednesday night remarks. "Because we cannot allow it to happen."
The mayor said some of the graduates at the graduation ceremony had turned their backs to him because he is a former cop.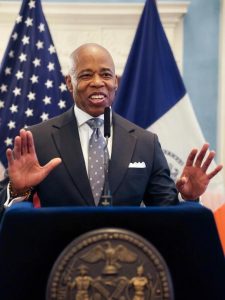 "Now I know why they turned their backs on me, because I will never turn my back on you," Adams said. "I will never turn my back on the men and women of our military service. I will never turn my back on the men and women who are part of the New York City Police Department. I will never turn my back on people who are in this city and make the city what it is."
He condemned those who remained silent in the face of the grad's remarks.
CUNY Board of Trustees chairman Bill Thompson and vice chair Sandra Wilkin issued a joint statement Tuesday describing Mohammed's remarks as "hate speech."
Thompson insisted on Wednesday that the statement was written on behalf of the entire Board of Trustees — even though their signatures weren't inked on it a day earlier.
Reached by The Post on Wednesday, seven of the trustees either refused to comment or hid behind that statement. The five remaining trustees didn't respond at all.
"The silence that we are seeing in the midst of the hate we are experiencing, will never be the silence that will be in City Hall as long as I'm the mayor of New York City," Adams said. "That is not acceptable."