Gov. Gavin Newsom (D-CA) reacted on Wednesday to a Pride flag that was burned at a Los Angeles area elementary school, decrying "a full-throated purge effort" that he says is orchestrated "by the far-right."
A rainbow-colored Pride flag that had been placed in a plant pot outside of a Saticoy Elementary School classroom was lit on fire and destroyed earlier this month. The burnt flag was discovered on May 22, and the Los Angeles Police Department is reportedly investigating the incident as a possible hate crime.
Reports indicate that some parents at the school had previously voiced opposition to a scheduled Pride Day assembly on Friday. A group even planned on social media to protest the assembly.
"Let's take a moment to talk about this," Newsom tweeted. "There is a full-throated purge effort going on here by the far-right that we have not seen for decades. They are on a boycott binge and cancel crusade, trying to eliminate the existence of minority communities. Burning Flags. Banning Books."
"We have seen this before. And it's happening everywhere, all across the country," the governor added. "Woke has become just another a dog whistle. We must continue to call out hate when we see it, as they keep trying to normalize it. If we go silent, this will only get worse. We cannot become numb to this."
LGBT Pride month will begin on Thursday, kicking off celebrations across the country.
This year, however, schools and companies alike have seen pushback over the inclusion of LGBT-themed materials and products.
Schools in several states have been challenged for housing inappropriate books in libraries or teaching inappropriate topics. The discovery of these instances led some state governments to take action. For example, Gov. Ron DeSantis (R-FL) signed the Parental Rights in Education Act, which expanded the rights of parents and barred educators from providing instruction on gender identity or sexual orientation to young children.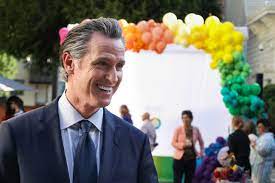 In an effort to hurt the measure's appeal, commentators and media personalities labeled it the "Don't Say Gay" law.
Companies such as Anheuser-Busch and Target have found themselves on the receiving end of backlash for catering to LGBT consumers. Earlier this year, one of the beverage company's brands, Bud Light, was discovered to have partnered with controversial transgender influencer Dylan Mulvaney. Since the partnership, the company's entire portfolio has seen a financial blow.
Target recently debuted several products for its Pride collection, including some that are marketed to young children and toddlers. This sparked controversy immediately from concerned parents. Another item in the collection is a " tuck-friendly " swimsuit, which was displayed close to the children's section.
Further, one of the contributing designers to the collection was discovered by internet sleuths to be a satanist who preaches about satan's acceptance of transgenderism on social media. The designer of the brand Abprallen is a self-proclaimed gay, transgender man known as Erik. One of the brand's popular designs reads, "Satan respects pronouns."
In response to the reactions elicited by the products, Target removed some of the more objectionable items from the floor.