In his 20-year career as a New York police detective, Kevin Rodgers says he never met the likes of Viktoria Nasyrova .
Kevin Rodgers : I've never dealt with a case where cheesecake that's laced with poison is utilized …
It started on Sept. 2, 2016, with what seemed like a routine call.
Det. Kevin Rodgers : It was a call from patrol stating that we have a — a woman … advising that there are items missing from her bedroom.
The woman was a beauty stylist named Olga Tsvyk, who did eyelash extensions at a nearby salon. Patrol officers told Rodgers she'd reported items, including purses, had vanished from her home.
Det. Kevin Rodgers : I grab my partner … and we headed out to this, uh, woman's house.
She told Rodgers she had just returned home from the hospital, where she said she'd been in and out of consciousness with severe dizziness and nausea.
When he got to the scene, Olga, a Ukrainian immigrant, still seemed a bit woozy.
Peter Van Sant : Can you remember at all … the police asking you questions?
Olga Tsvyk : (Sighs) No, I don't remember.
She says the only thing she remembered was that a frantic client from the salon had come to her house — a Russian woman named Viktoria Nasyrova, who had wanted her eyelashes extended in a hurry.
Det. Kevin Rodgers :" I need an emergency eyelash repair done. Please, please, please." … Olga said, "I never have done that before … every bit of work I do is in my salon."
Olga had told her client she had no appointments available. But she says Viktoria was in the habit of being pushy – she'd repeatedly suggested they spend time together outside of work.
Olga Tsvyk : She starts acting like she's my friend, you know?
Feeling uneasy, Olga had refused Viktoria's offers to hang out. And she noticed something else about Viktoria — something visually unsettling: an uncanny physical resemblance.
Olga Tsvyk: I thought she looked like me.
While Olga had turned down socializing with Viktoria, she relented to her pleas for eyelash help and told her to come over. Olga's uneasy feeling returned when Viktoria showed up at her door with three small slices of cheesecake.
Olga Tsvyk : It's from, like famous bakery, like famous cheesecake.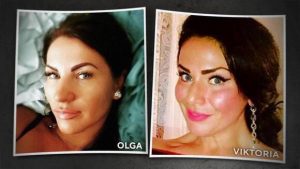 Olga says Viktoria quickly gobbled up two of the slices, and then insisted Olga try the last one.
Peter Van Sant : Did you eat the entire piece?
Olga Tsvyk : Yes, it's like small piece.
Peter Van Sant: And what happened?
Olga Tsvyk : I got sick.
She said she threw up violently.
Peter Van Sant : And?
Olga Tsvyk : Then after that, I don't remember anything.
Peter Van Sant : So, she tells you this story, what are you thinking?
Det. Kevin Rodgers :  I am suspicious.
With Olga acting woozy, Rodgers wondered if she was a drug user.
Det. Kevin Rodgers : I said to her, I says, Olga, I said, I want to believe you, however, this doesn't add up. … But she was adamant, adamant. This 100 percent happened, and this woman is up to something.
In the garbage, Rodgers did see something.
Det. Kevin Rodgers : I walked over to the wastepaper basket and right there … was this plastic container with what appeared to be the remnants of pastry, something that looked good.
Olga identified it as the cheesecake box. Rodgers told his evidence team to bag it and tag it. Whatever had been in that box, Olga said it had made her very sick.