LIMA, Peru (AP) — The chief suspect in the unsolved 2005 disappearance of American student Natalee Holloway is being transferred to a prison near Peru's capital ahead of his pending extradition to the United States to face charges linked to her vanishing, officials said Saturday.
The government of Peru, where Dutch citizen Joran van der Sloot was serving a 28-year sentence for the murder of a Peruvian woman, authorized his extradition to the U.S. in May.
Máximo Altez, van der Sloot's lawyer, said is client was being taken by land from the Challapalca prison in Peru's southern Andes to the Piedras Gordas prison on the outskirts of Lima.
"In the coming days, the INPE (National Penitentiary Institute) will hand over the condemned man to Interpol Peru with the goal of handing him over to U.S. authorities from the FBI," said a statement from the INPE released Saturday.
Altez said that once the bureaucratic procedures are completed and van der Sloot is given a medical exam, his client will be transferred to the U.S. He estimated the extradition could take place on Tuesday, but Peruvian officials did not confirm this day.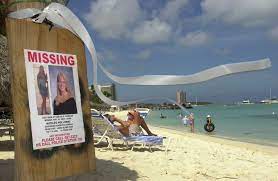 Van der Sloot has agreed to be sent to the United States where he faces trial for alleged extortion and wire fraud charges linked to the Holloway case, his lawyer said.
When asked by the Associated Press why his client agreed, the lawyer responded: "He is imprisoned in the worst prison in the world," referring the maximum-security Challapalca prison.
"Any prison in the United States is a five-star hotel" in comparison, he said.
Altez said that, according to the treaty between Peru and the United States, van der Sloot is being extradited to the U.S. temporarily for one year to face legal proceedings and in the event of a delay, this period can be extended for another year.
"At the end of this, he has to be returned to Peru," Altez said. He will spend "at most two years in the United States."
Altez said his client denies being guilty of the crimes of extortion and fraud.
Holloway, who lived in suburban Birmingham, Alabama, was 18 when she was last seen during a trip with classmates to the Caribbean island of Aruba. She vanished after a night with friends at a nightclub, leaving a mystery that sparked years of news coverage and countless true-crime podcasts. She was last seen leaving a bar with van der Sloot, who was a student at an international school on the island.