Dual revelations about Jack Smith's probe into the mishandling of records at Mar-a-Lago suggest the special counsel's probe into former President Trump is advancing on several fronts, bolstering the case against him.
Reporting from CNN this week indicates authorities have a recording of Trump discussing his inability to share the contents of a classified document he retained — undercutting his long-standing claim he declassified the records in his possession.
The special counsel is also seeking more information about the movement of boxes at the Mar-a-Lago carried out by two Trump employees, The Washington Post reported, while Trump attorney Evan Corcoran was waived off from searching certain portions of Trump's Florida home following a subpoena, according to The Guardian .
Collectively, the reporting suggests the special counsel is buttressing Espionage Act charges over the episode and still building an obstruction of justice case over the ensuing saga to secure the return of the records.
The week was capped with a report from lawyers and former prosecutors who concluded, based on public reporting, that the DOJ has enough evidence in the case to merit charging Trump directly.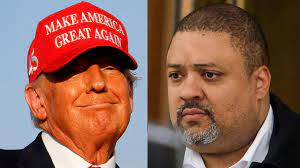 "The Department's own precedent makes clear that charging Trump would be to treat him comparably to others who engaged in similar criminal behavior, often with far fewer aggravating factors than the former president. Based on the publicly available information to date, a powerful case exists for charging Trump," the group wrote in a model prosecution memo published by Just Security.
"We conclude that Trump should — and likely will — be charged."
The tapes, which have not been directly reviewed by any outlet and only described by sources familiar, capture Trump in summer 2021 discussing a classified document reviewing options for launching a possible attack on Iran.
In a short segment of a longer discussion, taped in preparation for a book on Trump's chief of staff, Mark Meadows, Trump apparently suggests he would like to show them the document but can't, given constraints on his ability to declassify documents after leaving office.
The tape is significant on two counts. It undercuts Trump's ongoing claim that he declassified the records found at his home, something he at one point claimed a president could do simply by thinking about it.
But it also shows Trump's awareness of the rules and processes surrounding the classification process ahead of the special counsel's investigation, a key detail for prosecutors who would need to successfully demonstrate the former president willfully retained the records.
"The tape recording is most probative of Trump's mental state. It shows that he knew the documents remained classified and shouldn't be shared with others, which further undercuts any potential argument that he secretly declassified them," Brian Greer, a former CIA attorney, told The Hill.
"It also makes it much easier to demonstrate that Trump's retention of the documents was willful, a key element of an Espionage Act charge."