Authorities announced that no survivors were found after a small airplane that flew over Washington, D.C., prompting a fighter jet chase, crashed in a mountainous area of southwest Virginia on Sunday.
Virginia State Police were notified of the crash at about 3:50 p.m. Sunday and rescuers remained at the scene of the crash about four hours later after conducting a search on foot and by air, officials said in a statement to The Hill. No survivors were found, they added.
Authorities said they will release the identities of the airplane's occupants once the information becomes available.
The crash came after F-16 fighter jets were scrambled to pursue the unresponsive Cessna 560 Citation V aircraft, which flew over Washington and Northern Virginia on Sunday afternoon. The Federal Aviation Administration (FAA) said in a statement that the plane took off from Elizabethton Municipal Airport in Elizabethton, Tenn., and was headed for Long Island MacArthur Airport in New York.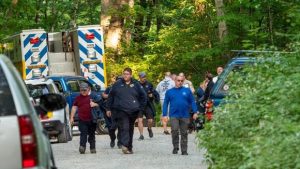 The North American Aerospace Defense Command (NORAD) said in a statement that the fighter jets were authorized to travel at supersonic speeds, which is why residents may have heard a sonic boom. The statement also added that the NORAD aircraft used flares to draw attention from the airplane's pilot, noting that there was "no danger" to people on the ground from the use of flares.
"The pilot was unresponsive and the Cessna subsequently crashed near the George Washington National Forest, Virginia. NORAD attempted to establish contact with the pilot until the aircraft crashed," the statement said.
The plane was owned by Encore Motors of Melbourne Inc., a company based in Florida. John Rumpel, who heads the company, told The New York Times that the passengers included his daughter, a 2-year-old granddaughter, her nanny as well as the pilot.
"It descended at 20,000 feet a minute, and nobody could survive a crash from that speed," he said
The FAA and the National Transportation Safety Board will be investigating the incident.